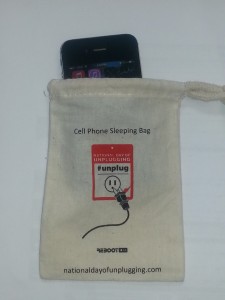 San Francisco-based conceptual artist Jessica Tully designed this cell phone bag as a way to resist the temptation of the distracting electronic glow of our cell phones and cameras.
Limited  Edition, 4″ x 6″ Hemp with soy based ink. Logo design by Lucie Kim.
Stocks Limited
For bulk orders, email us.
Unplug with your Phonekerchief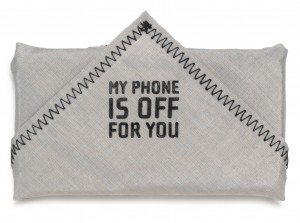 Send the right signal by giving dinner partners your undivided attention with this innovative, service-blocking hanky made with silver fibers that effectively block incoming calls and texts. "My phone is off for you," says it all, so you can, too. Cut, sewn, and printed in the USA of fabric made in China. 55% silver, 45% nylon. Phonekerchief fabric is silver-grey in color.